There are lots of activities and events being planned for 2019 in Aberlemno - check back here regularly to see what's happening but first, why not come along to our very special Pictish Room Open Day on Saturday 24th August. Click here to see more.
There's also an exciting opportunity to get involved in redecorating Aberlemno Village Hall with our first 'Decorating Party' scheduled for Saturday 31st August. Click here to see more.
Another date for your diary - the Aberlemno Village Hall Christmas Craft Fair will take place on Saturday 30th November between 10am and 1pm. If you are interested in having your own stall to sell your crafts at this extremely popular event, please contact us here with your details and we'll get straight back to you - only a few tables left now.
And finally for now, do you recognise anyone in these photos from the 1977 Aberlemno Silver Jubilee Celebrations? We know some of the names as you can see but do have a few gaps. If so we'd love to hear from you.
Tug O War: Gordon Mackie- front
Ladies Race: from Right Mrs. H. Ramsay, Mrs. Robertson, Mrs. I. Kennedy, Mrs. D. Murray ? Mrs. J. Stewart, Mrs. M. Murray ?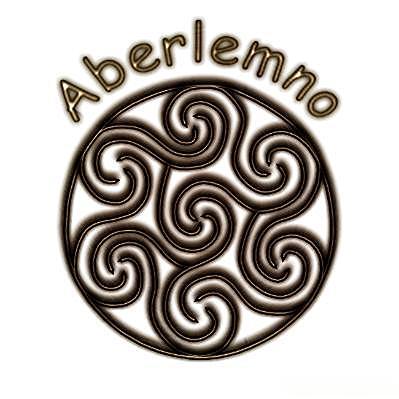 The Pictish Room
The Pictish Room in Aberlemno Village Hall is home to a collection of Pictish replica stones, carvings and interpretation boards that celebrate our diverse Pictish heritage. It is located in the Village Hall, adjacent to the celebrated Aberlemno Sculptured Stones and a short walk from the famous Cross Slab which is in the Aberlemno Churchyard.
The Pictish Room is run by local volunteers and is open one day a month from April-October and by arrangement.
Please note that while a wheelchair accessible toilet is available at this facility, the Pictish Room itself is not wheelchair accessible.
Opening Times:
12pm-3pm on the following days: April 20th, May 19th, June 23rd, July 20th, August 24th, October 6th.
Please do feel free to contact us to arrange for private access to view the exhibits on alternative dates.
If you are interested in getting involved in some of the activities that take place in Aberlemno through the Village Hall Committee, please do get in touch with us. We are a friendly group of people and would welcome you along to get involved as much or as little as would suit.
We have a full 2019 calendar of events taking place in Aberlemno which is updated regularly.
If you want to know more, please call Jacqui on 07939 458309.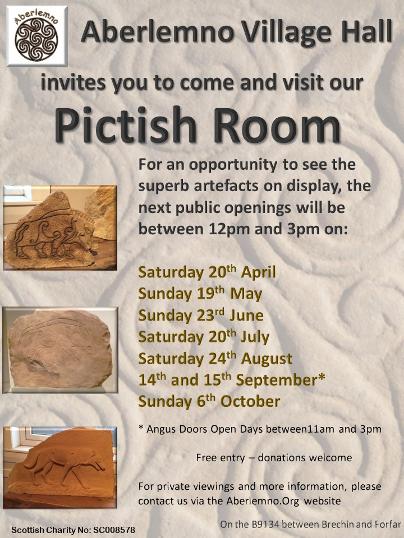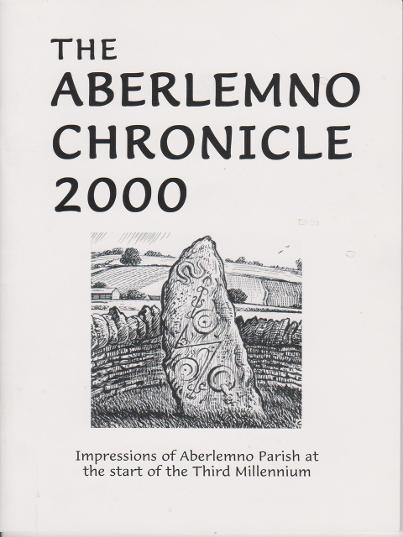 Church News:
Click here
to download a full copy of the newsletter for Aberlemno, Guthrie & Rescobie.
Click here
for details of the Church times for 2019.
A little bit of local history.......
A few years ago Judy Denison visited Aberlemno to do some research on one of her ancestors, James Mackintosh Kennedy who was born at Carsegownie Farm. Her research is now complete and has been published on Wikipedia. Here is an extract:
James was born on Carsegownie Farm, Aberlemno. He was the seventh of ten children born to David Kennedy (1817-1853) and Jessie Mackintosh (1813-1901). David, a mason, was killed in a quarry blast when James was five years old, leaving his widow with ten children of which four were under six years old. James attended the Parish School in Aberlemno for seven years, to age 12, after which he was employed as a shepherd. The local Presbyterian church gave him textbooks, and he named his sheep after Greek philosophers.
After a few years he moved to Dundee, studied in the high school, and apprenticed as a machinist. He "took a prominent part in the agitation of 1865 for improving the condition of the agricultural classes."
While in Dundee, he began writing poetry and studying Scottish literature, and contributed poems to several publications.
Believing that there were more opportunities for mechanics in the United States, James emigrated alone to New York City in 1868. He worked in locomotive shops around the country, returning to New York in 1872.
To the right is a poem written by James upon the death of his young son in 1879.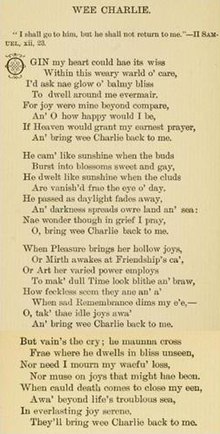 Aberlemno Community Council is proud to support www.aberlemno.org