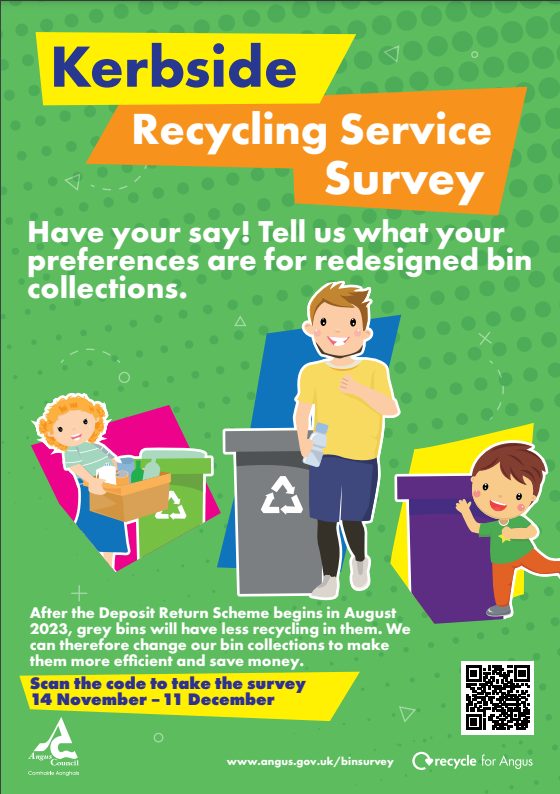 Take part in our Kerbside Recycling Service Survey
Angus Council is facing a financial crisis and forecasts a budget gap of £51.9 million over the next three years.
There is the opportunity to save huge sums of money by changing the way we collect our waste and recycling from households. This includes recycling more as it's cheaper to recycle. By making changes to our kerbside recycling service to save money, we can reduce cuts in other service areas such as schools, social care and roads.
The Deposit Return scheme for Scotland -
https://orlo.uk/m3qUN
- begins in August 2023, introducing a 20p deposit on drinks containers including plastic bottles (except milk), cans and glass bottle. Deposits are redeemed at a return point for example a supermarket, local shop or takeaway restaurant meaning the amount of these materials going in household recycling bins will be significantly less. It doesn't make sense to empty bins that aren't full and so we're looking at how we can make bin collections more efficient.
The survey is open from 14 November – 11 December to Angus residents aged 16 or over, takes around five minutes to complete and does not ask for personal data. We'll be engaging with younger residents separately.
You can get help to complete the survey at any library -
https://orlo.uk/mmCWA
- or pick up a paper copy from there too.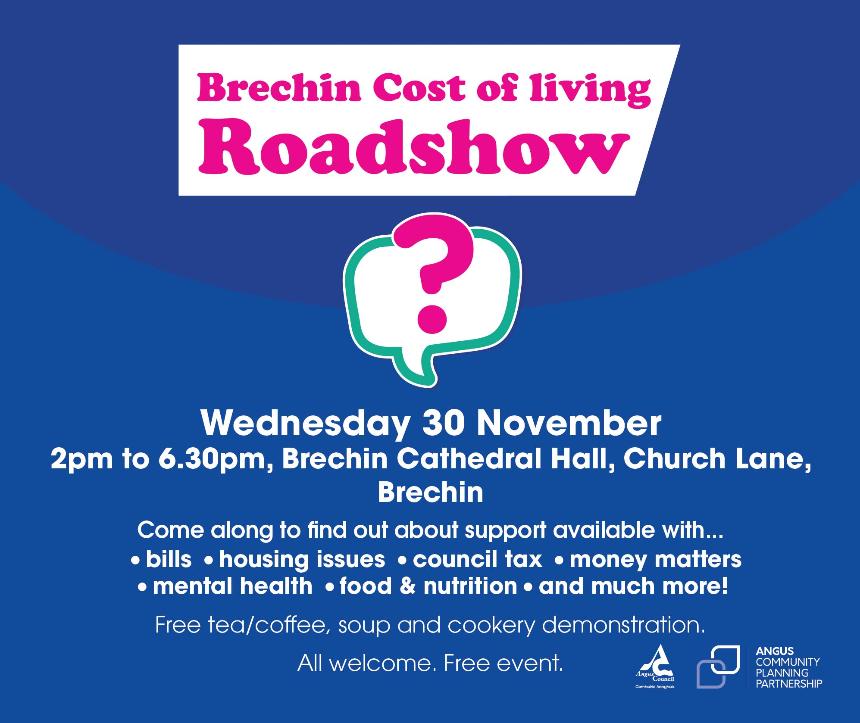 Cost of Living Roadshows
Vibrant Communities Team and Partners are hosting more 'Cost of Living' roadshows in Angus. Details of these confirmed so far are noted below.
Brechin Wednesday 30 November – 2pm to 6.30pm
Forfar Wednesday 7 December – 2pm to 6.30pm

Similar to last time, these events will offer an opportunity for the public to find out what may be available to support them with the rising costs of living. Participants will have access to information, resources and support from various agencies such as Welfare Rights, CAB, DWP, VAA, Skills team, Vibrant Communities and other members of the Public/Voluntary Sector.


A bi-monthly bulletin produced by the Police Scotland North East Division Crime Reduction Team aimed at keeping you up to date with what's happening in our countryside.
In this edition of Rural Matters:
PC Lynn Black from the Scottish Partnership Against Rural Crime looks at escalating fuel thefts.
Station Commander Craig Shand from the Scottish Fire and Rescue Service explains how fires can be prevented in rural properties.
PC Mark Irvine examines the pitfalls of purchasing machinery online.
Inspector Claire Smith investigates domestic abuse in rural communities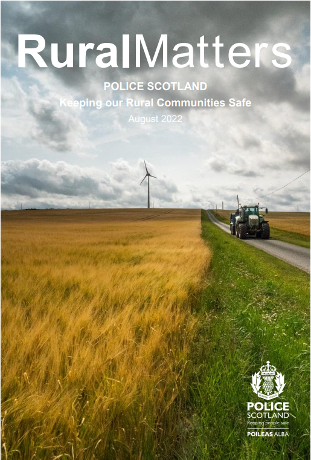 Supporting Ukraine
Angus Council Leader David Fairweather -
"Angus Council stands ready to provide support where and when it is needed most and applaud the selfless efforts of the many people in Angus who have already made donations and given assistance where they can. The citizens of Ukraine are firmly in the hearts, minds and prayers of people in Angus."
If you, or someone you know is hosting Ukranian refugees can you let us know? We would like to organise an informal event in the Hall so people can meet up for coffee and a chat.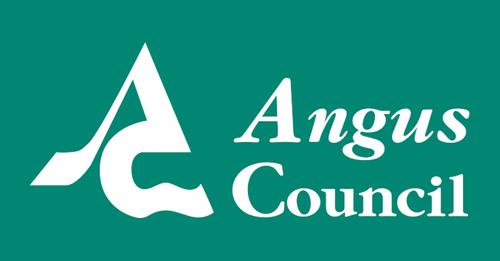 Micro Renewables in the Historic Environment


From heat pumps to solar panels and power generation, micro renewables will be playing a larger part in the future as we move towards net zero. But what does that mean for Scotland's older buildings and homes?



We are dedicating a whole Inform Friday session to micro renewables in the historic environment after your many questions.

For traditional buildings, there are special considerations about these technologies. Learn more about how they can be integrated into older buildings in Scotland.

Historic Environment Scotland experts Roger Curtis and Kenney Easson will give you an overview of micro renewables in the historic environment. You'll have the chance to ask any questions you have live, or submit a question in advance by emailing technicalresearch@hes.scot.

How to watch

The livestream event will be streamed for free on the Engine Shed Facebook page and Historic Environment Scotland YouTube channel starting at 12 noon. Make sure you're logged in if you'd like to join the chat and ask questions.

We'll update this event listing with the livestream links a few days before so you can save them in advance, if you need to.

There's no need to book or register.

Can't make it? You'll be able to watch the full recording after on Facebook and YouTube.

Grants and Funding
There are a range of grants and schemes running locally and nationally which could help with the cost of installing, replacing or investing in energy saving measures and lowering fuel bills.
---
Live programmes
HeatWell Angus
Scarf – in partnership with Angus Council – has secured Scottish Welfare Fund backing to provide fuel vouchers to Angus residents whose household income has been adversely affected by Covid-19. Access to vouchers is strictly subject to eligibility criteria and assessment. A limited number of vouchers will be made available, until all funding has been distributed. To apply, complete the online form HERE.
Home Heating Support Fund
The Home Heating Support Fund is a Scottish Government scheme only for households in fuel debt because of a growing cost-of-living crisis. Unfortunately, due to an extremely high level of demand, we are no longer accepting online applications at this time.
---
Other support
Home Energy Scotland (HES) advisors offer free and impartial advice on other programmes which may be available to you. The advisors will assess your situation to see what you're eligible for and advise you about the next steps.
To find out about financial support that may be available to you, please call Home Energy Scotland at Scarf on freephone 0808 808 2282.
| | |
| --- | --- |
| | Quad Bikes and All-Terrain Vehicles Security Advice |

---

The following information is being sent on behalf of Police Scotland

Quad Bikes and All-Terrain Vehicles (ATV) are a major target for thieves and highly organised criminals in the UK. These types of vehicles are easy to steal as thieves can jump on and drive off when you are working on a farm or target them from workshops and barns.

Remote locations such as farms can offer rich pickings due to their rural location and isolation from other neighbours.

Follow the guidance below to build up the layers of security on your farm:

Restrict Access - Consider the access to farmyards and buildings - if gates or entrances are no longer used, then seal them off. Restrict access routes to the premises where possible – if not, ensure they have good natural surveillance from any farmhouses i.e. where you have a good view from an occupied room.

Keep Out of Sight - Try to keep the vehicles out of sight from nearby roads, as thieves will often survey properties looking for vehicles

Close Gates - Keep gates to yards closed, as open gates can be an open invitation to thieves. Lock barns or outbuildings doors at night using a heavy-duty Secured by Design (SBD) approved hasp and staple with security padlock.

Use Clamps & Locks - When leaving vehicles overnight, consider a bespoke Quad/ATV drive on security device which clamps around the wheel and is secured to a concrete floor. Other solutions include using a combination of SBD security approved locks and chains with ground anchors or wheel locks with a high attack rating.

Fit Immobilisation and Tracking Systems - The use of tracking systems can notify the owner the vehicle is being interfered with or moved, allowing for a prompt response to either prevent the theft or detain offenders. SBD have several members who specialise in this area and can advise on the best system and fitting of the product for your vehicle. Remember these vehicles are often exported overseas by gangs so being able to track its location is vital.

Lighting - Lighting is a good deterrent on a farm, especially in the long winter nights and around the barns where your quad/ATV are stored. Consider outside security lights controlled by an automatic time-switch or infra-red beams that react to heat or movement.

Fogging Devices - These systems fill a protected area with an impenetrable cloud of fog which reduces visibility and can fill the barn or outbuildings within seconds of a detection; it is difficult to steal what you cannot see.

Take Notes - Keep a record of serial numbers, chassis and model numbers and take note of any custom marks on the vehicle. Take colour photographs from several angles and additionally take videos with a smartphone if possible.

Mark your Property - Security marking your quad/ATV using an SBD recognised forensic asset marking or etching kit is a highly effective deterrent to thieves and an established method of reducing theft. Remember to use the visible warning labels to show that the property is marked. Trying to remove one of these forensic markers is very difficult and in many cases the police only need a trace amount to establish ownership and gain a conviction. The CESAR System is the National security marking system of the Construction Equipment Association and Agricultural Engineers Association with the aim of reducing plant and farm theft.

Remove Keys - Never leave your keys in the ignition, even if you only briefly leave your quad/ATV unattended, and don't be an easy target for opportunity theft.

Should you wish to receive further advice on scams or other crime prevention advice please contact us by calling 101 (ask for Tayside Partnerships Interventions and Preventions) or by email at taysidepreventionsandinterventions@scotland.police.uk


| | |
| --- | --- |
| | New Way To Avoid Financial Fraud - Stop - Hang Up - Call 159 |

---

Just launched this week there is a new way to avoid financial fraud. A secure and easy-to-remember phone number to contact your bank on in order to avoid painful scams. This could prove to be the safest way for many to contact with your provider if you have suspicions and concerns about your accounts, or even if you are struggling to find a customer services number.





Stop Scams UK and Global Cyber Alliance have launched the UK-wide 159 call service, which is designed to guarantee consumers a safe route to contacting their banks.

The scheme is urging people to "stop, hang up and call 159" to check calls are for real. The idea is to help those who believe they have been contacted by scammers claiming to be their bank, or by fraudsters who encourage them to transfer money.

Currently, banks that cover over 70% of UK current account customers are signed up to the scheme at launch, although more are expected to follow. Here's a table detailing the firms currently taking part :-

Bank of Scotland
Barclays
Halifax
Lloyds Bank
NatWest
Royal Bank of Scotland
Santander
Starling Bank
Ulster Bank

You can call 159 if you're a customer of most major telecoms firms
The majority of telecoms firms are participating in the scheme, which enables you to call 159 from handsets and landlines if you're a customer. Here are the firms taking part :-

BT (including EE and Plusnet)
Gamma
O2 (including Giffgaff)
Sky
TalkTalk
Three
Virgin Media

When calling 159, you'll be taken through an option menu in which each bank that has signed up to the service is read aloud. Customers are then able to use their telephone keypad to be put through to their bank. You'll then be directed through to your bank's customer service department. Note that calling the service will cost the same as making a national rate call.
For those who bank with firms not yet involved in the 159 pilot – you should continue to contact your bank by using the number on the back of your debit or credit card.

When to call 159
Call 159 if they encounter the following:

Someone contacts you claiming to be from your bank – even if they do not seem suspicious.

You are contacted by someone claiming to be an authority figure (such as the police) and told to transfer money – even if the request seems genuine.

You receive a call about a financial matter and it appears suspicious.





Resources that can help with fatigue, sleep and anxiety:
The central theme of the National Wellbeing Hub is: You look after us so we'll look after you
The wide-ranging content is aimed at encouraging everyone in health and social care services, wherever they work, and unpaid carers, to look after themselves and seek help seek when they need it.
It contains information on (evidence-based) resources to enable self-care and the most comprehensive information on services available (e.g. helplines, peer support) at national, regional and local levels.
A number of key resources (free for health and social care workers) are available on the National Wellbeing Hub, including apps and online programmes:
Sleepio (click to access the evidence based sleep improvement programme)
Daylight (click to access ways of improving general wellbeing)
Silvercloud (click to access a structured programme based on CBT focusing on supporting your wellbeing, including managing your mental health, resilience, stress and sleep. Use code NHS2020)
For more info, follow @PRoMISScot @scotgovhealth on Twitter.
If you are self-isolating and need any help or support with shopping, picking up medication or just want someone to chat to, please do contact us or call 07551 779347 and we will do whatever we can to help. Below are several other organisations that you can also contact:
Scottish Rural Network - COVID-19 Rural Information Hub
Charities Aid Foundation – Coronovirus Emergency Fund
Angus Council - services, welfare, advice
Angus Foodbank is open as normal, with normal procedures for collections. A delivery can be arranged and will be delivered by a member of voluntary Angus where someone is showing symptoms of Covid-19. If anyone would like to make a donation then this can be done via Tescos, Lidls etc, dropped off at the food bank during opening hours, or if out with opening hours can be left behind the wheelie bins as this is checked every morning.