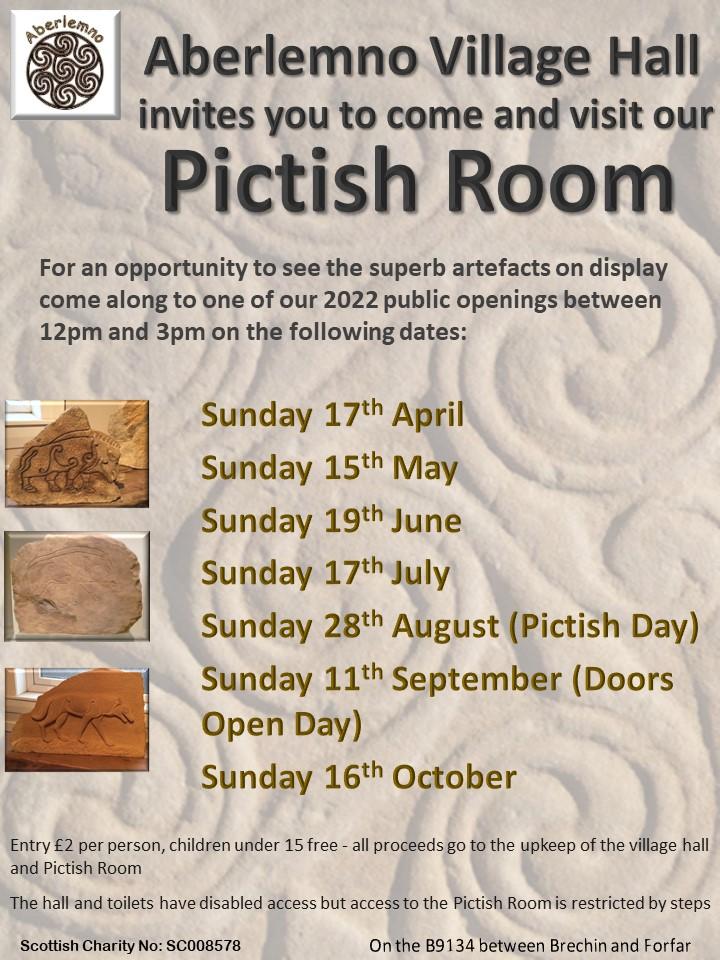 The Pictish Room is run by local volunteers and is open one day a month from April-October and by arrangement. We had planned for the Aberlemno Village Hall Pictish Room to be open to visitors in April however we have made the decision to postpone the opening for now. The full programme of open days will be published in due course.
The Pictish Room in Aberlemno Village Hall is home to a collection of Pictish replica stones, carvings and interpretation boards that celebrate our diverse Pictish heritage. It is located in the Village Hall, adjacent to the celebrated Aberlemno Sculptured Stones and a short walk from the famous Cross Slab which is in the Aberlemno Churchyard.
In September 2019, Norman Atkinson OBE, well known locally for his knowledge, particularly but not restricted to the Picts, led a walk around the Aberlemno Carved Stones and John Borland gave a talk on images of Warriors and War on Pictish Stones. John's background is as a survey manager and illustrator with RCAHMS (now HES) and he is Chairman of the Pictish Arts Society.
A great time was had by all at the last Pictish Room open day which was supported by Shiltron of Fortriu. A few photos of the day are shown below courtesy of Mark Hooghiemstra.
The Angus Doors Open Days programme is online both at www.visitangus.com/doorsopen and on the national website at www.doorsopendays.org.uk.
Please note that while a wheelchair accessible toilet is available at this facility, the Pictish Room itself is not wheelchair accessible.
Please do feel free to contact us to arrange for private access to view the exhibits on alternative dates.