There are a number of local businesses now able to provide a delivery service. To view the details, please click here or go to the 'Local Deliveries' page in this website. We will continue to add to this list on a regular basis.
If you are a local business and want to let the local community know about deliveries you can make in the current climate, please contact us on 07551 779347.
New partnership service to support our most isolated and vulnerable people
Angus Actively Cares
A new website and phone number has been launched to help any isolated and vulnerable Angus residents get the confidential support they need during the COVID-19 (Coronavirus) pandemic.
If you need help and support, or if you are worried that someone else (a friend, relative or neighbour) needs help and support, for whatever reason, during the COVID-19 (Coronavirus) pandemic then go to: https://www.taysidecares.co.uk/
Tel: 03452 777 778
The phone lines are open Mon-Friday 10:00-20:00 and Sat/Sun 10:00-14:00
Help in the present crisis
Dear friends,
At this present time many people are beginning to struggle in different ways. Advice on how to access help and advice can be seen below. However, I am aware that some people are reluctant to come forward with their needs, even at times like this. If you are uncomfortable asking for help please feel free to contact me. Anything you say will be kept in the strictest confidence and I will do all I can to help. Even if you simply want someone to talk to in these worrying times please do not hesitate to phone or e-mail me.
With kindest regards,
Brian
01241-828243 BRamsay@churchofscotland.org.uk
A message from the Minister and a weekly prayer can be found on the Kirk page in this site or by clicking here.
Taking account of Government advice and concern for our community we have closed the Hall for bookings until further notice.
If you are self-isolating and need any help or support with shopping, picking up medication or just want someone to chat to, please do contact us or call 07551 779347 and we will do whatever we can to help. Below are several other organisations that you can also contact:
Scottish Rural Network - COVID-19 Rural Information Hub
Charities Aid Foundation – Coronovirus Emergency Fund
Angus Council - services, welfare, advice
Angus Foodbank is open as normal, with normal procedures for collections. A delivery can be arranged and will be delivered by a member of voluntary Angus where someone is showing symptoms of Covid-19. If anyone would like to make a donation then this can be done via Tescos, Lidls etc, dropped off at the food bank during opening hours, or if out with opening hours can be left behind the wheelie bins as this is checked every morning.
Services at Aberlemno Church have ceased until further notice and the Church is now closed. Whilst there is no service at the Church, we will be publishing a weekly message from our Reverent Brian Ramsay along with a Sunday Prayer. This will be on the Kirk tab in this website each week.
The Aberlemno Village Hall 2020 AGM originally planned for May, will be rescheduled in due course.
Here at the Aberlemno Village Hall, we are still getting ready for our annual plant sale which is always a well attended and popular event in the village. As well as seeing you all on the day buying all the glorious goodies for your garden, we'd also like to invite you to come along and have a stall this year and so, please do visit 'book here' page to reserve your place.
The event will take place as usual in the car park, with tea, coffee and cake available to purchase in the hall itself.
A copy of the poster with further details is below - the only thing that will change is the date - this will be firmed up as soon as it is possible to do so - it may be more of a mid-summer plant sale......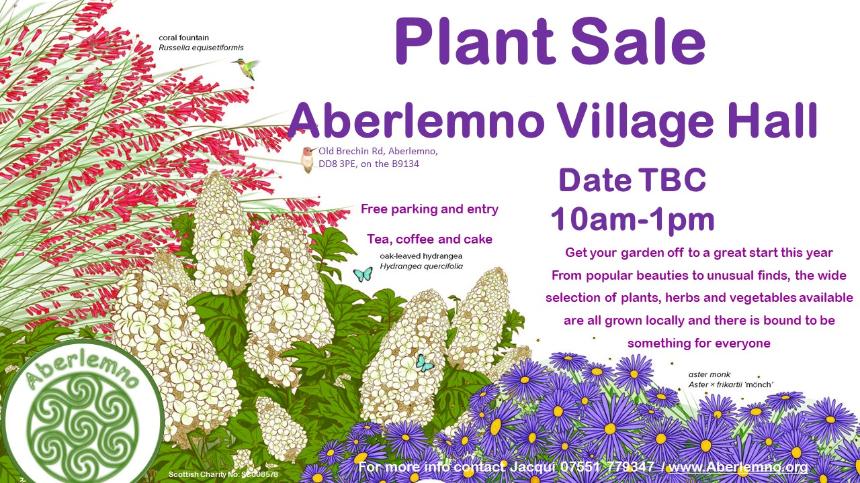 If you are interested in getting involved in some of the activities that take place in Aberlemno through the Village Hall Committee, please do get in touch with us. We are a friendly group of people and would welcome you along to get involved as much or as little as would suit.
We hope to soon have a full 2020 calendar of events taking place in Aberlemno which is updated regularly.
If you want to know more, please call Jacqui on 07551 779347.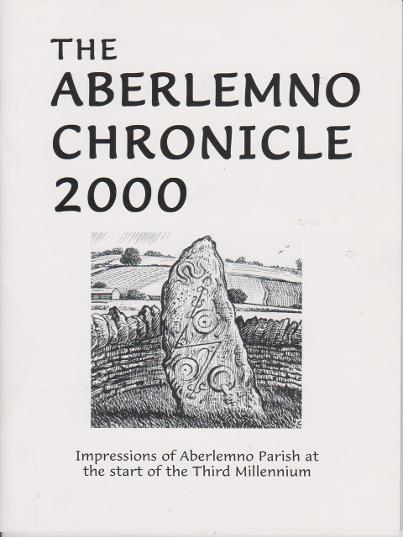 Church News:
Click here
to download a full copy of the March 2020 parish newsletter for Aberlemno, Guthrie & Rescobie.
There is now a
defibrillator
at the Church.