Guthrie Manse.
01241-828243
Dear friends,
As you will be aware the Scottish Government has now allowed the opening of Churches for worship under strict guidelines. Our two Kirk Sessions have agreed that we should try to open for worship. We have now received permission from Presbytery and the first service will be at Aberlemno at 10.00. A.M. on Sunday 9th of August. We will then follow the calendar as published at the beginning of the year. The last of the sessions for private prayer will take place on Sunday 2nd August.
However, if we wish to hold services it is essential that we follow these guidelines in order to keep everyone safe.
1/ Face coverings must be worn whilst in the building.
2/ Hand sanitizers will be provided and must be used on entry and when leaving.
3/ A one-way system will be used in all three churches.
4/ Only those from the same household or "bubble" may sit in the same pew.
5/ Certain pews will be taped off in order to make social distancing easier to maintain.
6/ Only those pews with a poster can be used. If you are not from the same household you must not use the area between posters. An Elder will be on duty to guide you if you are unsure where you can sit.
7. There will be no hymn singing during the service.
8. The toilets will not be open for use and there will be no access to the galleries at Aberlemno.
9. The collection will not be taken during the service but there will be a plate for your offering on your way out of the Church.
If you have any questions please contact me for further guidance. I am now allowed to do pre-arranged pastoral visits if you need to see me to talk about anything. We are pleased to be able to gather for worship once more but if you are unsure or anxious about coming to these services please be assured that I understand completely how you feel and will not be disappointed if you decide to wait for some time. I do not want anyone to feel pressurised in any way to return before they feel ready.
God bless you all,
Brian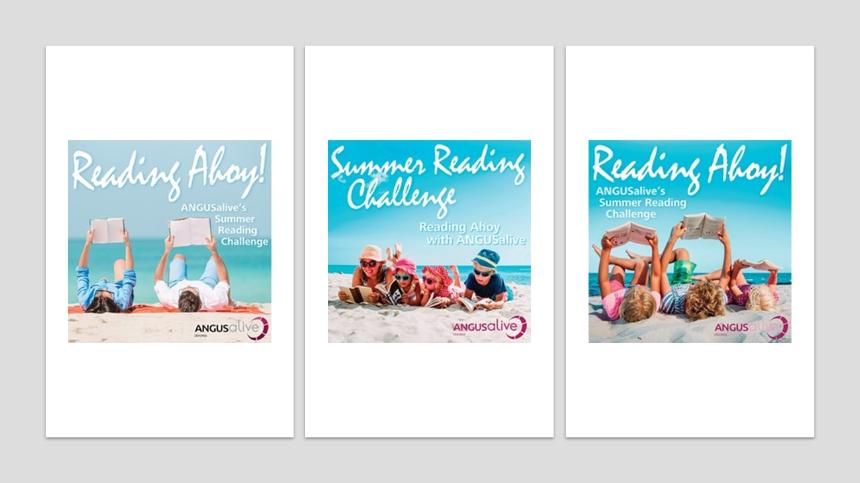 Summer Reading Challenge - Reading Ahoy!
Date: 29 June - 16 August 2020
ANGUSalive Libraries Facebook Page
ANGUSalive's library buildings may be temporarily closed but that's not going to stop readers taking part in this year's Summer Reading Challenge 2020.
This year ANGUSalive libraries will be hosting the Summer Reading Challenge online with an all-new digital aspect to keep children reading over the summer holidays and to encourage a love of reading for pleasure.
The challenge is open to all children and adults at all reading abilities, with the theme for this year being 'Reading Ahoy', and will take place from 29 June - 16 August. This year children can read their own books or download eBooks or eAudiobooks though our online library and the RBDigital app using their library card.
The challenge encourages children and adults to read six books during the summer holiday. Participants can read whatever they like – novels, fact books, joke books, poetry, comics, picture books or audio books. Everyone who successfully completes the challenge will receive a small goodie bag which can be collected from their local library once it re-opens.
We have a Reading Ahoy Facebook group to support those taking part where they can find book suggestions to help participation and tips and ideas to keep reading going. It's a place for children and adults to rate and review their books as they work towards their reading goal. It also features crafts, games, quizzes, and digital (downloadable) activities to encourage children and their families to take part in the Challenge at home.
For more information go to:
Opening Our Churches for Prayer
As from Sunday 28th June two of our Churches will be open for private prayer at the following times:
Aberlemno – Sunday: 10.00am – 12.00pm, Wednesday: 6.30pm - 7.30pm
Guthrie – Sunday: 6.00pm – 7.00pm, Wednesday: 10.00am - 12.00pm
These opening times will be supervised by the Rev. Brian Ramsay.
Access will be to sanctuary areas only. Hand sanitizers will be available and must be used and people will be asked to wear face coverings and stay 2 metres apart if others are in the building. There will be no access to the galleries at Aberlemno.
These arrangements will be reviewed after one month or when some form of Church Services are allowed.
If you require any more information please contact me on 01241-828243 or revdbrianr@hotmail.com.
God bless,
Brian
A message from the Minister and a weekly prayer can be found on the Kirk page in this site or by clicking here.
If you are running out of ways to keep your children entertained as the weeks of lockdown roll on, you need not worry.
There are plenty of fun ways to pass the time as a family and make some long lasting memories while you do it.
From encouraging your child's inner Van Gogh with arts and crafts, to unleashing their star potential with karaoke (just to name a few),
click here
for 50 activities that can be done in the comfort of your own home, garden or local area.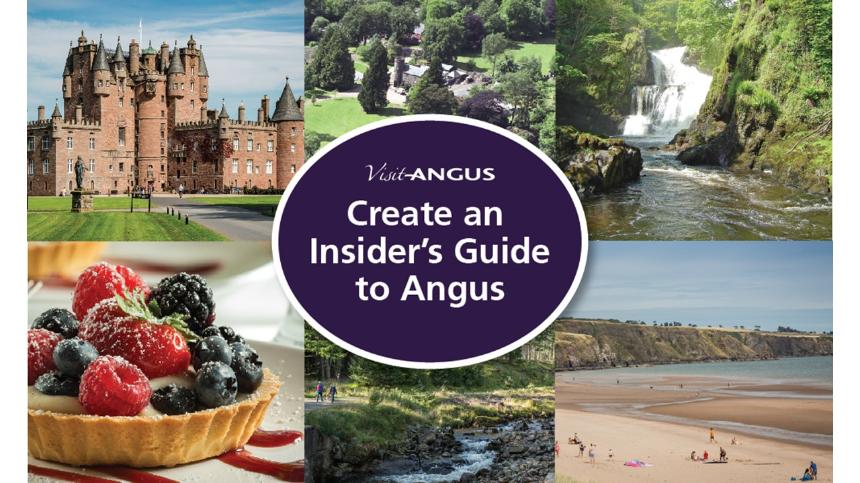 Visit Angus needs your help to create an Insider's Guide to Angus
100 unmissable experiences
With your help over the next few weeks, Visit Angus are going to create the 'Insider's Guide to Angus'.
Take part using Social PinPoint and plot your unmissable experiences on the map, or join in the conversation with Visit Angus over on their Facebook page, where you will explore different categories over the next five weeks.
Visit Angus have identified 10 categories below which they would like you to consider when providing them with your favourite experiences.
Places to eat
Favourite food/drink
Beauty spots
Coast and water
Places to go walking
Visitor attraction
Hidden gems
Wildlife watching spots
Cycling routes
Family day out
There are so many special places to visit, experiences to be tried and hidden gems to explore that this task needs an army of local residents and visitors to help create the insider's guide.
So get involved, have your say and let's create a comprehensive guide for visitors.
We look forward to welcoming visitors again when the time is right, but until then, stay home and stay safe.
Update from Home Energy Scotland: We are currently operating a comfort fund – the comfort fund is for vulnerable people who are on low income or who have perhaps experienced a loss of or decrease in their income, due to the current situation, and require some additional help towards their energy bills or heating their property. Please, if you know anyone who you believe may be eligible for this fund then signpost them to get in touch with Home Energy Scotland via the free phone number: 0808 808 2282 or, if you are currently on our online referral portal refer them through this measure to discuss this option with one of our advisors. The Energy Saving Trust, who manage the Home Energy Scotland contract, are providing free heaters to anyone who does not currently have heating in their property. If you again know of anyone who would benefit from this then just refer or signpost as discussed above.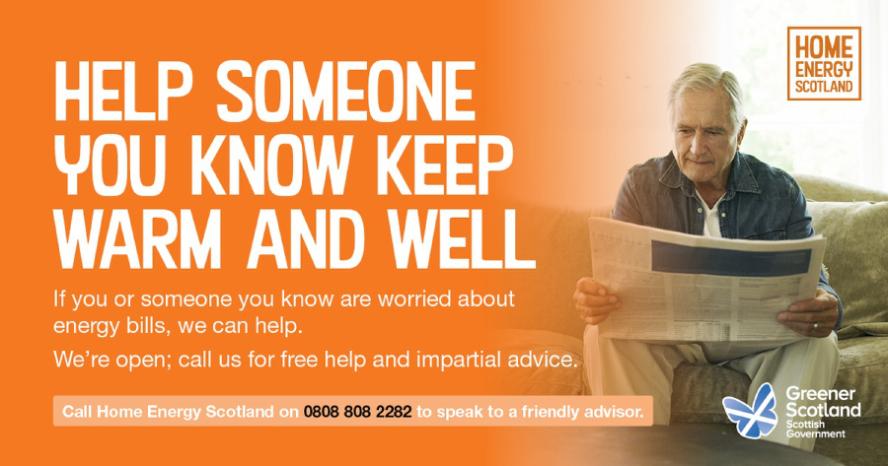 A bit of light entertainment - a few things to consider trying ...........
Stay connected to nature, learn about your garden wildlife and contribute to important scientific research without leaving your home. We're giving everyone free access to BTO Garden BirdWatch (GBW), a national-scale citizen project, during the COVID-19 lockdown.
Hospitalfield Free on-line drawing school
Join the Free Drawing School live online every Monday at 10am. A different drawing challenge is announced each week for you to get involved with at home between 10am-12pm guided live with an artist. The Free Drawing School led by illustrator in residence Laura Darling, is now online and attracting more activity than ever before. Laura Darling has been leading Hospitalfield's Free Drawing School brilliantly for twelve months but now her residency is coming to an end with a new artist taking on the mantle for a further twelve months starting later this year.
New partnership service to support our most isolated and vulnerable people
Angus Actively Cares
A new website and phone number has been launched to help any isolated and vulnerable Angus residents get the confidential support they need during the COVID-19 (Coronavirus) pandemic.
If you need help and support, or if you are worried that someone else (a friend, relative or neighbour) needs help and support, for whatever reason, during the COVID-19 (Coronavirus) pandemic then go to: https://www.taysidecares.co.uk/
Tel: 03452 777 778
The phone lines are open Mon-Friday 10:00-20:00 and Sat/Sun 10:00-14:00
Taking account of Government advice and concern for our community we have closed the Hall for bookings and events until further notice.
If you are self-isolating and need any help or support with shopping, picking up medication or just want someone to chat to, please do contact us or call 07551 779347 and we will do whatever we can to help. Below are several other organisations that you can also contact:
Scottish Rural Network - COVID-19 Rural Information Hub
Charities Aid Foundation – Coronovirus Emergency Fund
Angus Council - services, welfare, advice
Angus Foodbank is open as normal, with normal procedures for collections. A delivery can be arranged and will be delivered by a member of voluntary Angus where someone is showing symptoms of Covid-19. If anyone would like to make a donation then this can be done via Tescos, Lidls etc, dropped off at the food bank during opening hours, or if out with opening hours can be left behind the wheelie bins as this is checked every morning.
If you are interested in getting involved in some of the activities that take place in Aberlemno through the Village Hall Committee, please do get in touch with us. We are a friendly group of people and would welcome you along to get involved as much or as little as would suit.
We hope to soon be able to provide details of our Christmas Craft Fair which we plan to have on Saturday 28th November.
If you want to know more, please call Jacqui on 07551 779347.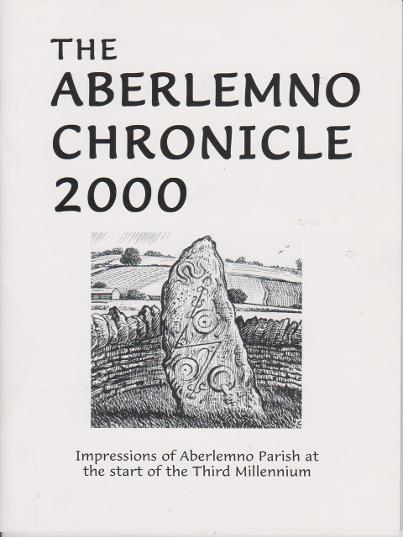 Church News:
Click here
to download a full copy of the March 2020 parish newsletter for Aberlemno, Guthrie & Rescobie.
There is now a
defibrillator
at the Church.