Guthrie Manse.
01241-828243
Dear friends,
As you will be aware the Scottish Government has now allowed the opening of Churches for worship under strict guidelines. Our two Kirk Sessions have agreed that we should try to open for worship. We have now received permission from Presbytery and the first service will be at Aberlemno at 10.00. A.M. on Sunday 9th of August. We will then follow the calendar as published at the beginning of the year. The last of the sessions for private prayer will take place on Sunday 2nd August.
However, if we wish to hold services it is essential that we follow these guidelines in order to keep everyone safe.
1/ Face coverings must be worn whilst in the building.
2/ Hand sanitizers will be provided and must be used on entry and when leaving.
3/ A one-way system will be used in all three churches.
4/ Only those from the same household or "bubble" may sit in the same pew.
5/ Certain pews will be taped off in order to make social distancing easier to maintain.
6/ Only those pews with a poster can be used. If you are not from the same household you must not use the area between posters. An Elder will be on duty to guide you if you are unsure where you can sit.
7. There will be no hymn singing during the service.
8. The toilets will not be open for use and there will be no access to the galleries at Aberlemno.
9. The collection will not be taken during the service but there will be a plate for your offering on your way out of the Church.
If you have any questions please contact me for further guidance. I am now allowed to do pre-arranged pastoral visits if you need to see me to talk about anything. We are pleased to be able to gather for worship once more but if you are unsure or anxious about coming to these services please be assured that I understand completely how you feel and will not be disappointed if you decide to wait for some time. I do not want anyone to feel pressurised in any way to return before they feel ready.
God bless you all,
Brian
Opening Our Churches for Prayer until 9th August
Our Churches are open for private prayer at the following times:
Aberlemno – Sunday: 10.00am – 12.00pm, Wednesday: 6.30pm - 7.30pm
Guthrie – Sunday: 6.00pm – 7.00pm, Wednesday: 10.00am - 12.00pm
These opening times will be supervised by the Rev. Brian Ramsay.
Access will be to sanctuary areas only. Hand sanitizers will be available and must be used and people will be asked to wear face coverings and stay 2 metres apart if others are in the building. There will be no access to the galleries at Aberlemno.
These arrangements will be replaced as per the information at the top of this page from 9th August.
If you require any more information please contact me on 01241-828243 or revdbrianr@hotmail.com.
God bless,
Brian
Help in the present crisis
Dear friends,
At this present time many people are beginning to struggle in different ways. Advice on how to access help and advice can be see below. However, I am aware that some people are reluctant to come forward with their needs, even at times like this. If you are uncomfortable asking for help please feel free to contact me. Anything you say will be kept in the strictest confidence and I will do all I can to help. Even if you simply want someone to talk to in these worrying times please do not hesitate to phone or e-mail me.
With kindest regards,
Brian
01241-828243 BRamsay@churchofscotland.org.uk
*****************
Scottish Rural Network - COVID-19 Rural Information Hub
Charities Aid Foundation – Coronovirus Emergency Fund
Angus Council - services, welfare, advice
Angus Foodbank is open as normal, with normal procedures for collections. A delivery can be arranged and will be delivered by a member of voluntary Angus where someone is showing symptoms of Covid-19. If anyone would like to make a donation then this can be done via Tescos, Lidls etc, dropped off at the food bank during opening hours, or if out with opening hours can be left behind the wheelie bins as this is checked every morning.
A Message from the Minster 30.7.20
Last week I had a pleasant surprise when I received a telephone call from the Rev. Martin Fair of Arbroath, who is this year's Moderator of The General Assembly. Sadly, this has been a very different year for the Moderator. There has been no General Assembly and none of the usual visits and events which usually fill the Moderatorial year.
Martin, however, has had a positive approach to his very different duties and one of his ideas was to be in touch with every Parish Minister in Scotland to see how they were getting on and to share a prayer with them.
We have all had a year very different from the one we had planned and hoped for. Even the opening of our Churches for worship will be far from what we are used to and cherish. I look forward to welcoming those who choose to come but I can understand why many people have expressed concerns about returning to Church in the near future. All I can say is if you feel unsure about coming please wait until Church going is something you can look forward to and not a cause of anxiety or worry.
There will continue to be all kinds of challenges for us for a long time to come. Martin's plan to contact all his colleagues will require great patience and determination. The months ahead will require those qualities from all of us.
May God bless you,
Brian
A Prayer
Heavenly Father, help us to keep up our spirits at this difficult time, when there are still so many concerns and uncertainties. Help us to remember that each one of us can play our part by keeping hopeful and doing what we can, even if that seems so little.
Remind us that as we go forward we never walk alone, even when the way ahead is not clear to us.
We remember in our prayers those who are in hospital at this time and their loved ones waiting at home.
Bless those dear to us, especially those who are far from us and those we still cannot meet.
In Jesus' name.
Amen
Below is a photo of the Sunday School and some friends from Rescobie sharing a Zoom lesson on Palm Sunday: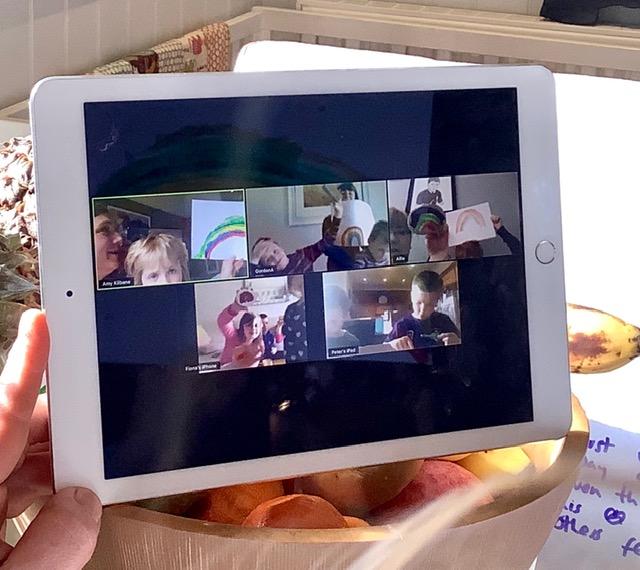 Church News:
Click here
to download a full copy of the March 2020 Parish newsletter for Aberlemno, Guthrie & Rescobie.
Aberlemno Parish Church

This small country parish church has a long history. A church here was dedicated by Bishop David de Bernham in 1242, but the site's history may be substantially longer.
There is documentary evidence to suggest that Aberlemno Kirk was originally called Egglespether, a Pictish church of around 710AD by King Nechtan, although this is not agreed by some scholars. On the register of churches belonging to Restenneth in 1161/2 Egglespether is mentioned but by 1230 it had become known as Aberlemno.
The building today largely dates to 1722 when the church was more or less completely rebuilt, although a ridge of possibly earlier stonework survives at the base of the church's walls. It has a T-shape plan, with a later porch and rear extension. The church is built in coursed sandstone rubble, with ashlar surrounds and has a slate roof. It is surrounded by a small graveyard and the manse stands to the east.
The church is surrounded by a graveyard with many 19th century stones. It is famous for its Pictish stone however, which stands near the west gable of the church. It dates to the 8th century and commemorates the battle of Nechtansmere.
In 1983 the Church was linked to the neighbouring parish of Guthrie and Rescobie.
Although it is a very historic Church, we are still a very active congregation with weekly services, a Sunday School and a Youth Group.

Rev. Brian Ramsay
Guthrie Manse, Guthrie, Forfar, DD8 2TP

01241 828243
revdbrianr@hotmail.com