Help in the present crisis
Dear friends,
At this present time many people are beginning to struggle in different ways. Advice on how to access help and advice can be see below. However, I am aware that some people are reluctant to come forward with their needs, even at times like this. If you are uncomfortable asking for help please feel free to contact me. Anything you say will be kept in the strictest confidence and I will do all I can to help. Even if you simply want someone to talk to in these worrying times please do not hesitate to phone or e-mail me.
With kindest regards,
Brian
01241-828243 BRamsay@churchofscotland.org.uk
*****************
Scottish Rural Network - COVID-19 Rural Information Hub
Charities Aid Foundation – Coronovirus Emergency Fund
Angus Council - services, welfare, advice
Angus Foodbank is open as normal, with normal procedures for collections. A delivery can be arranged and will be delivered by a member of voluntary Angus where someone is showing symptoms of Covid-19. If anyone would like to make a donation then this can be done via Tescos, Lidls etc, dropped off at the food bank during opening hours, or if out with opening hours can be left behind the wheelie bins as this is checked every morning.
A Message from the Minster 27.5.20
When I was a young and inexperienced minister I went to the local cottage hospital to visit a man who was terminally ill. He was in a side room and when I knocked on the door he whispered for me to come in. I explained who I was (we had never met) and he motioned for me to sit down. I asked him if he would like me to say a prayer and he replied that God might find that a bit cheeky as he had not prayed since he was at Primary School. He explained that his illness was his own fault as he had smoked heavily since he was 14. We sat and chatted for a while but I felt inadequate with nothing of value to say.
He died just a day or so later. At his funeral his sister came and spoke to me and said that her brother had appreciated the time I had spent with him. I said that I wished I could have done more. She replied, " But you were there for him."
It was one of those lessons that life teaches us and I have never forgotten.
One of the positive aspects of this sad and worrying time is that people are making an effort to keep in touch, even if just by phone or skype or whatever. I do hope that as we slowly return to some kind of normality people will keep that habit going because over the years I have come to realise that one of the greatest gifts we can give another person is to simply be there for them.
May God bless you,
Brian
A Prayer
Heavenly Father, whose son Jesus Christ always had time for others and who gave His time gladly to anyone who came to came to Him, help us to be there for others, especially those who are lonely, frightened or who feel unloved.
When our lives become busy again may we never forget those less fortunate than ourselves, those whose lives are difficult or limited and those unsure of where to turn.
Be with all those who care for the vulnerable and those who are giving their time to help others.
Bless those we love, especially those who are far from us at this time. In Jesus' name.
Amen

Below is a photo of the Sunday School and some friends from Rescobie sharing a Zoom lesson on Palm Sunday: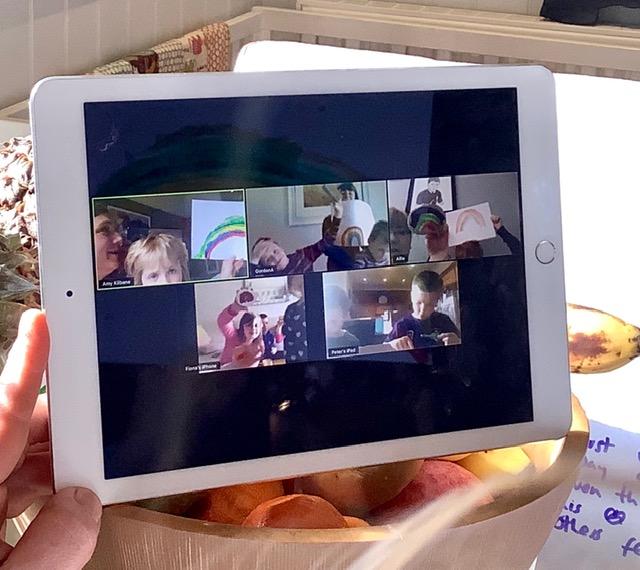 Please note that s
ervices at Aberlemno Church have ceased until further notice and t
he Church is now closed.
Church of Scotland Announcement - Cancellation of Worship Services:
We are asking that all gatherings for worship should cease until further notice, with effect from today (Wednesday 18th March 2020). This includes all Easter services. Some Presbyteries have already instructed this action. This will include, but not be restricted to, housegroups, meetings for youth work, and church cafes. It will still be possible for an individual to offer a livestreaming of a sermon and prayers. Sunday broadcasts of a weekly service take place on Radio 4, and also on Radio Scotland; other radio stations are available.
Church News:
Click here
to download a full copy of the March 2020 Parish newsletter for Aberlemno, Guthrie & Rescobie.
Aberlemno Parish Church

This small country parish church has a long history. A church here was dedicated by Bishop David de Bernham in 1242, but the site's history may be substantially longer.
There is documentary evidence to suggest that Aberlemno Kirk was originally called Egglespether, a Pictish church of around 710AD by King Nechtan, although this is not agreed by some scholars. On the register of churches belonging to Restenneth in 1161/2 Egglespether is mentioned but by 1230 it had become known as Aberlemno.
The building today largely dates to 1722 when the church was more or less completely rebuilt, although a ridge of possibly earlier stonework survives at the base of the church's walls. It has a T-shape plan, with a later porch and rear extension. The church is built in coursed sandstone rubble, with ashlar surrounds and has a slate roof. It is surrounded by a small graveyard and the manse stands to the east.
The church is surrounded by a graveyard with many 19th century stones. It is famous for its Pictish stone however, which stands near the west gable of the church. It dates to the 8th century and commemorates the battle of Nechtansmere.
In 1983 the Church was linked to the neighbouring parish of Guthrie and Rescobie.
Although it is a very historic Church, we are still a very active congregation with weekly services, a Sunday School and a Youth Group.

Rev. Brian Ramsay
Guthrie Manse, Guthrie, Forfar, DD8 2TP

01241 828243
revdbrianr@hotmail.com