A message from Brian July 2022
Dear friends,
Retirement has turned out to be more hectic than I imagined but it has been very nice being able to catch up with friends and family. One thing that this big change has done is to make me more aware of those things that really matter in life.
We are living in an uncertain and worrying time, with the terrible war in Ukraine continuing, inflation rising and concerns about so many things in life including the future of our Churches. It is more important than ever at such times that we focus on our human relationships, with those we love, our friends and those who need our help.
At the heart of so much of Jesus' teaching was an emphasis on our attitude to others; that we reflect our love for God and our devotion to Him in the way we care for those around us and for others in our world. Jesus astonished many by His attitude to those in need and those who had been rejected by society.
I have been pleasantly astonished by the numbers of cards and letters from all over the world and from people I have not seen for many years which I have received. To me ministry was all about relationships with people and these last few months have confirmed that is true for all of life.
May God bless you all.
Brian

A prayer
Heavenly Father,
Your Son Jesus Christ taught us by example to care for others and encouraged us to show these qualities too.
We give thanks for the gift of human relationships and friendship. Help us to remember that we do not need special skills to be a good friend but only need to care, listen and give our time.
We pray for those who in recent days have lost a loved one that they may in time find peace in their hearts.
Bless our neighbours, friends and our families and keep them safe we pray.
In Jesus' name.
Amen
The Aberlemno book club based in Aberlemno Church has now been launched. The idea is that you can go along to the 'library" to pick up a book. You may also take one you have read and no longer need in to the library as a swap. If you simply take a book the charge is £2. However, if you take along a book to exchange the charge is only £1.
The books are in the Church at the back of the west pews so can be accessed at any time during the day whilst the church is open. Please do feel free to browse the selection or add to the books on offer.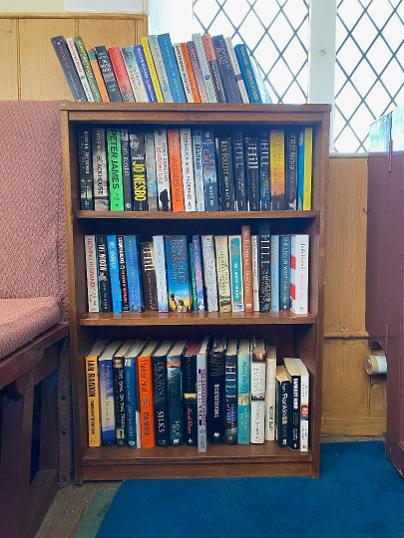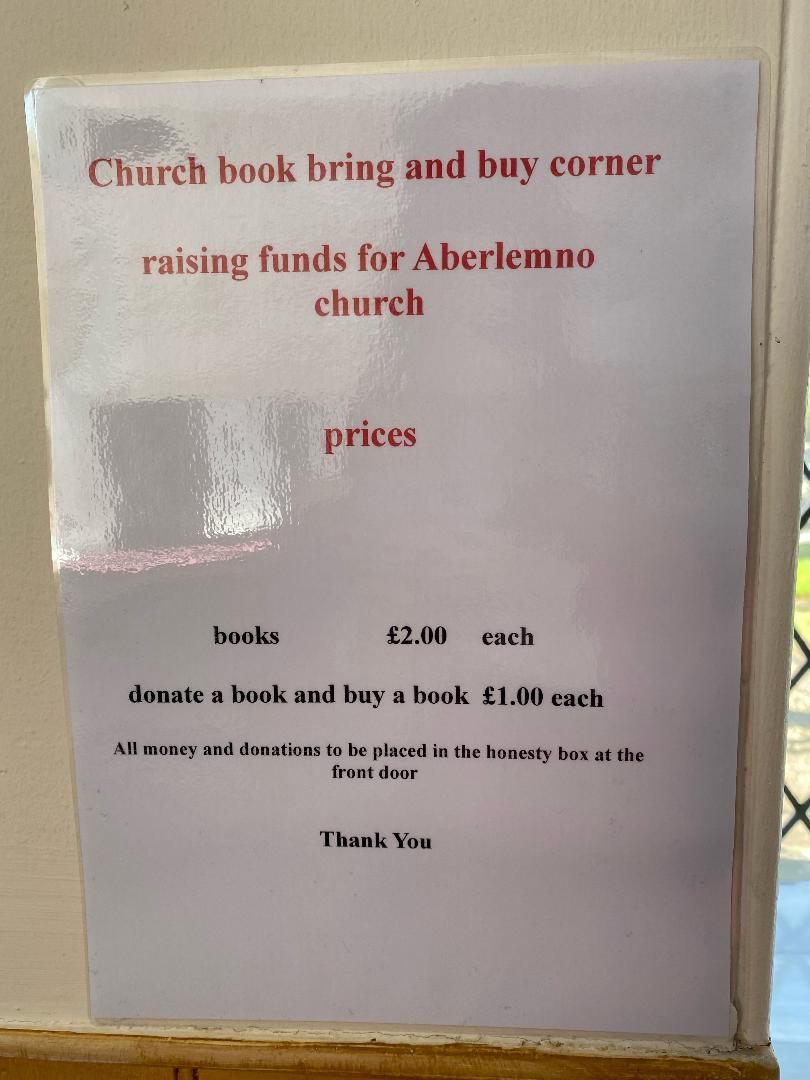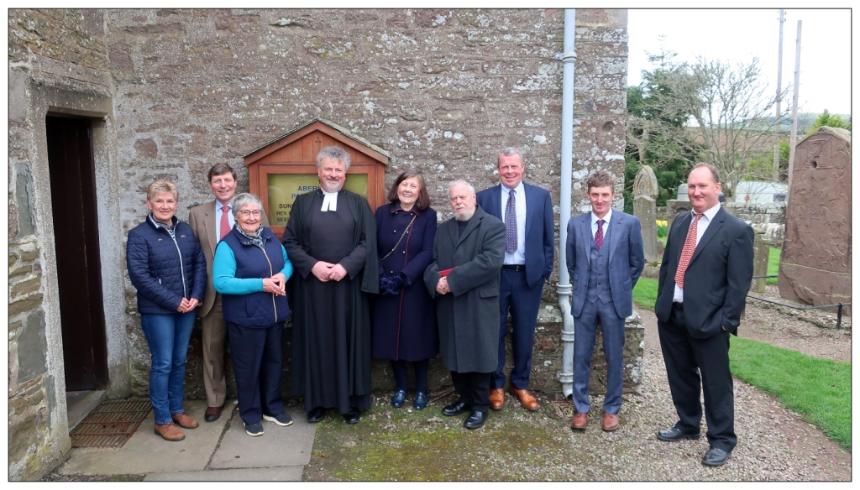 It was a very poignant Easter Church service for the congregation of Aberlemno Parish Church .
In the presence of all eight elders, it was the last time that our much loved Reverend Brian Ramsay stepped down from the pulpit at Aberlemno.
We all hope he will enjoy a long and happy retirement.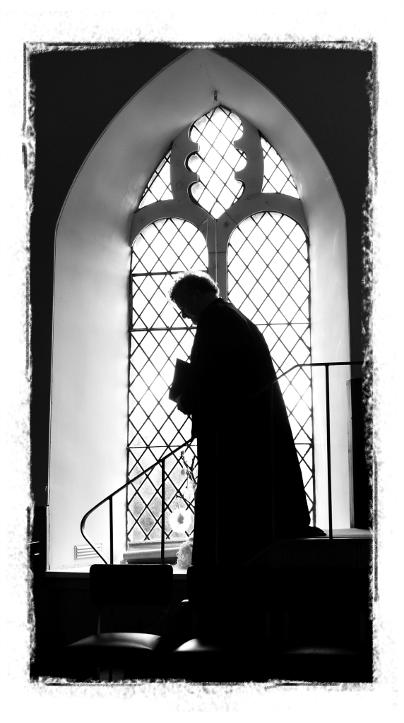 These messages will be put on the aberlemno.org website each week under the "Kirk" heading. If you know anyone who would like a printed version please let the minister know.
Memorial Stone
During the first lockdown I was asked to find a gravestone at Aberlemno for a gentleman trying to trace his ancestors. Whilst researching this I discovered that there was an area at the West of the Kirkyard which had been set aside for the burial of infants and still-born babies. As there was nothing to mark this area, we decided we should put a Memorial stone on the wall where these little ones were laid to rest. I contacted David McGovern of Monikie Rock Art who, when he heard what the memorial was for, very kindly donated the stone which he created. Raymond and Kelly prepared the area beside the stone and we were able to dedicate it on Sunday 25th of April not only to remember those little ones and their heart-broken families but also those today who go through the same tragic loss.
B.R.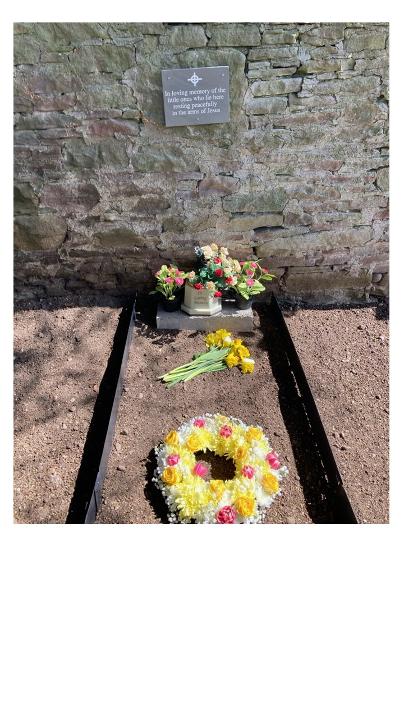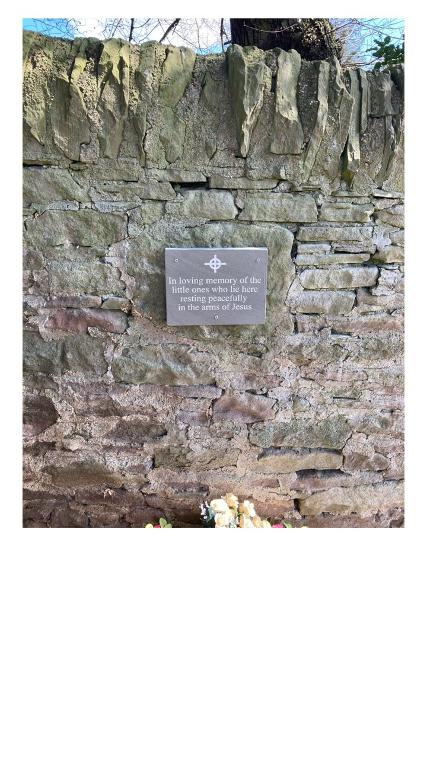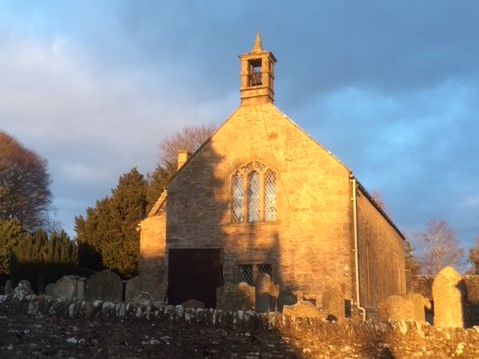 Church News:
Click here
to download a full copy of the March 2022 Parish newsletter for Aberlemno, Guthrie & Rescobie.
Aberlemno Parish Church

This small country parish church has a long history. A church here was dedicated by Bishop David de Bernham in 1242, but the site's history may be substantially longer.
There is documentary evidence to suggest that Aberlemno Kirk was originally called Egglespether, a Pictish church of around 710AD by King Nechtan, although this is not agreed by some scholars. On the register of churches belonging to Restenneth in 1161/2 Egglespether is mentioned but by 1230 it had become known as Aberlemno.
The building today largely dates to 1722 when the church was more or less completely rebuilt, although a ridge of possibly earlier stonework survives at the base of the church's walls. It has a T-shape plan, with a later porch and rear extension. The church is built in coursed sandstone rubble, with ashlar surrounds and has a slate roof. It is surrounded by a small graveyard and the manse stands to the east.
The church is surrounded by a graveyard with many 19th century stones. It is famous for its Pictish stone however, which stands near the west gable of the church. It dates to the 8th century and commemorates the battle of Nechtansmere.
In 1983 the Church was linked to the neighbouring parish of Guthrie and Rescobie.
Although it is a very historic Church, we are still a very active congregation with weekly services, a Sunday School and a Youth Group.

Rev. Brian Ramsay
Guthrie Manse, Guthrie, Forfar, DD8 2TP

01241 828243
revdbrianr@hotmail.com