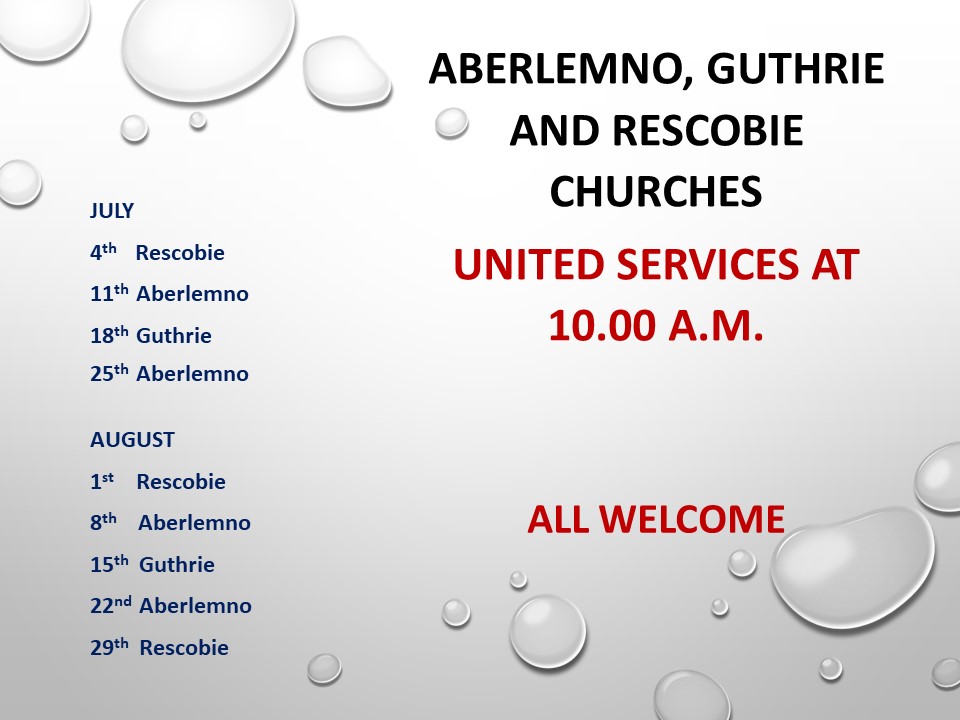 Church services are now starting at 10.00am.
Please note that restrictions will still apply including wearing face-coverings and social distancing.
A message from the Minister 30.07.2021
Dear friends,
Last week in my
message I spoke about visitors coming to our Churches. This week I have met a number of people who have come to see the Kirkyard Standing Stone at Aberlemno. One lady was looking at the Stone and commented about its age, then said, "It puts everything into perspective, doesn't it?"
We have been going through a difficult time for what will soon be two years; a time of sadness for many and a struggle for many more. Yet it is just one of many such times since the stone was carved. Wars, plagues, invasions and all kinds of disasters have confronted our parishes and our nation. Even in the 20th Century we had two World Wars, which claimed the lives of all the young men whose names are on our War Memorials, as well as Spanish Flu, Polio and other illnesses.
As a community and as a Nation we came through all of the crises- not without sorrow and pain but hopefully wiser and more appreciative of life's blessings.
The Kirkyard stone has a picture of a battle on one side and a cross on the other. All the years I have looked out at it I have felt that it has a strong message for us; that even in the darkest of times God is with us, backing us up as we face challenges, walking beside us as we travel forward into an unknown future and lifting us when we fall.
May God bless you all.
Brian
******************
A Prayer
Heavenly Father,
Help us to remember that whatever we face in life, we never face it without Your loving support. May we never forget to put our trust in You.
Help us to be able to show those dear to us how much we care and to show our love in all kinds of ways. Teach us how to show care and concern for others, especially those for whom life is difficult or feels frightening at this time.
Bless our loved ones and those who have no one to pray for them.
In Jesus' name.
Amen
These messages will be put on the aberlemno.org website each week under the "Kirk" heading. If you know anyone who would like a printed version please let the minister know.
Memorial Stone
During the first lockdown I was asked to find a gravestone at Aberlemno for a gentleman trying to trace his ancestors. Whilst researching this I discovered that there was an area at the West of the Kirkyard which had been set aside for the burial of infants and still-born babies. As there was nothing to mark this area, we decided we should put a Memorial stone on the wall where these little ones were laid to rest. I contacted David McGovern of Monikie Rock Art who, when he heard what the memorial was for, very kindly donated the stone which he created. Raymond and Kelly prepared the area beside the stone and we were able to dedicate it on Sunday 25th of April not only to remember those little ones and their heart-broken families but also those today who go through the same tragic loss.
B.R.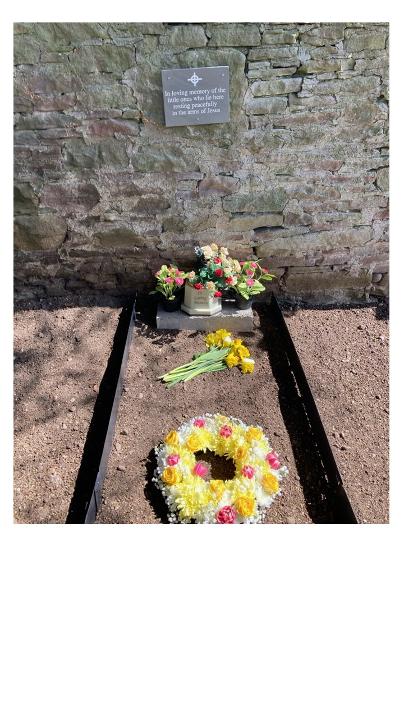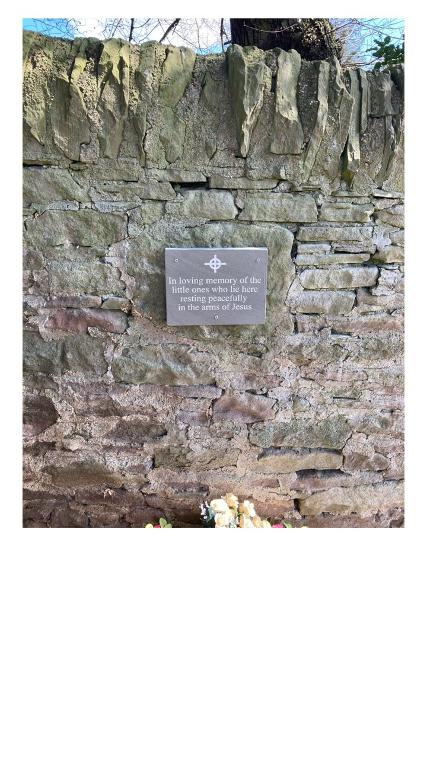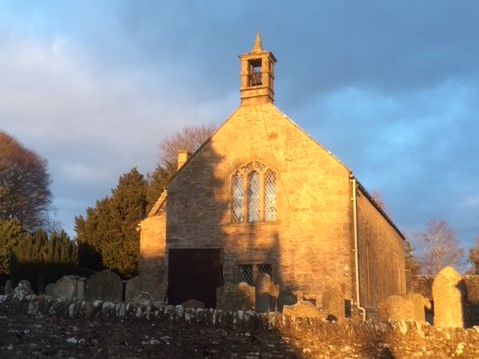 Church Safety Guidelines
1/ Face coverings must be worn whilst in the building.
2/ Hand sanitizers will be provided and must be used on entry and when leaving.
3/ A one-way system will be used in all three churches.
4/ Only those from the same household or "bubble" may sit in the same pew.
5/ Certain pews will be taped off in order to make social distancing easier to maintain.
6/ Only those pews with a poster can be used. If you are not from the same household you must not use the area between posters. An Elder will be on duty to guide you if you are unsure where you can sit.
7. There will be no hymn singing during the service.
8. The toilets will not be open for use and there will be no access to the galleries at Aberlemno.
9. The collection will not be taken during the service but there will be a plate for your offering on your way out of the Church.
If you have any questions please contact me for further guidance. I am now allowed to do pre-arranged pastoral visits if you need to see me to talk about anything. We are pleased to be able to gather for worship once more but if you are unsure or anxious about coming to these services please be assured that I understand completely how you feel and will not be disappointed if you decide to wait for some time. I do not want anyone to feel pressurised in any way to return before they feel ready.
God bless you all,
Brian
Help in the present crisis
Dear friends,
At this present time many people are beginning to struggle in different ways. Advice on how to access help and advice can be see below. However, I am aware that some people are reluctant to come forward with their needs, even at times like this. If you are uncomfortable asking for help please feel free to contact me. Anything you say will be kept in the strictest confidence and I will do all I can to help. Even if you simply want someone to talk to in these worrying times please do not hesitate to phone or e-mail me.
With kindest regards,
Brian
01241-828243 BRamsay@churchofscotland.org.uk
*****************
Scottish Rural Network - COVID-19 Rural Information Hub
Charities Aid Foundation – Coronovirus Emergency Fund
Angus Council - services, welfare, advice
Angus Foodbank is open as normal, with normal procedures for collections. A delivery can be arranged and will be delivered by a member of voluntary Angus where someone is showing symptoms of Covid-19. If anyone would like to make a donation then this can be done via Tescos, Lidls etc, dropped off at the food bank during opening hours, or if out with opening hours can be left behind the wheelie bins as this is checked every morning.
Church News:
Click here
to download a full copy of the December 2020 Parish newsletter for Aberlemno, Guthrie & Rescobie.
Aberlemno Parish Church

This small country parish church has a long history. A church here was dedicated by Bishop David de Bernham in 1242, but the site's history may be substantially longer.
There is documentary evidence to suggest that Aberlemno Kirk was originally called Egglespether, a Pictish church of around 710AD by King Nechtan, although this is not agreed by some scholars. On the register of churches belonging to Restenneth in 1161/2 Egglespether is mentioned but by 1230 it had become known as Aberlemno.
The building today largely dates to 1722 when the church was more or less completely rebuilt, although a ridge of possibly earlier stonework survives at the base of the church's walls. It has a T-shape plan, with a later porch and rear extension. The church is built in coursed sandstone rubble, with ashlar surrounds and has a slate roof. It is surrounded by a small graveyard and the manse stands to the east.
The church is surrounded by a graveyard with many 19th century stones. It is famous for its Pictish stone however, which stands near the west gable of the church. It dates to the 8th century and commemorates the battle of Nechtansmere.
In 1983 the Church was linked to the neighbouring parish of Guthrie and Rescobie.
Although it is a very historic Church, we are still a very active congregation with weekly services, a Sunday School and a Youth Group.

Rev. Brian Ramsay
Guthrie Manse, Guthrie, Forfar, DD8 2TP

01241 828243
revdbrianr@hotmail.com